How to Get Paid for Your Ideas and
How to Give Advice For Money, Fun, and Fulfillment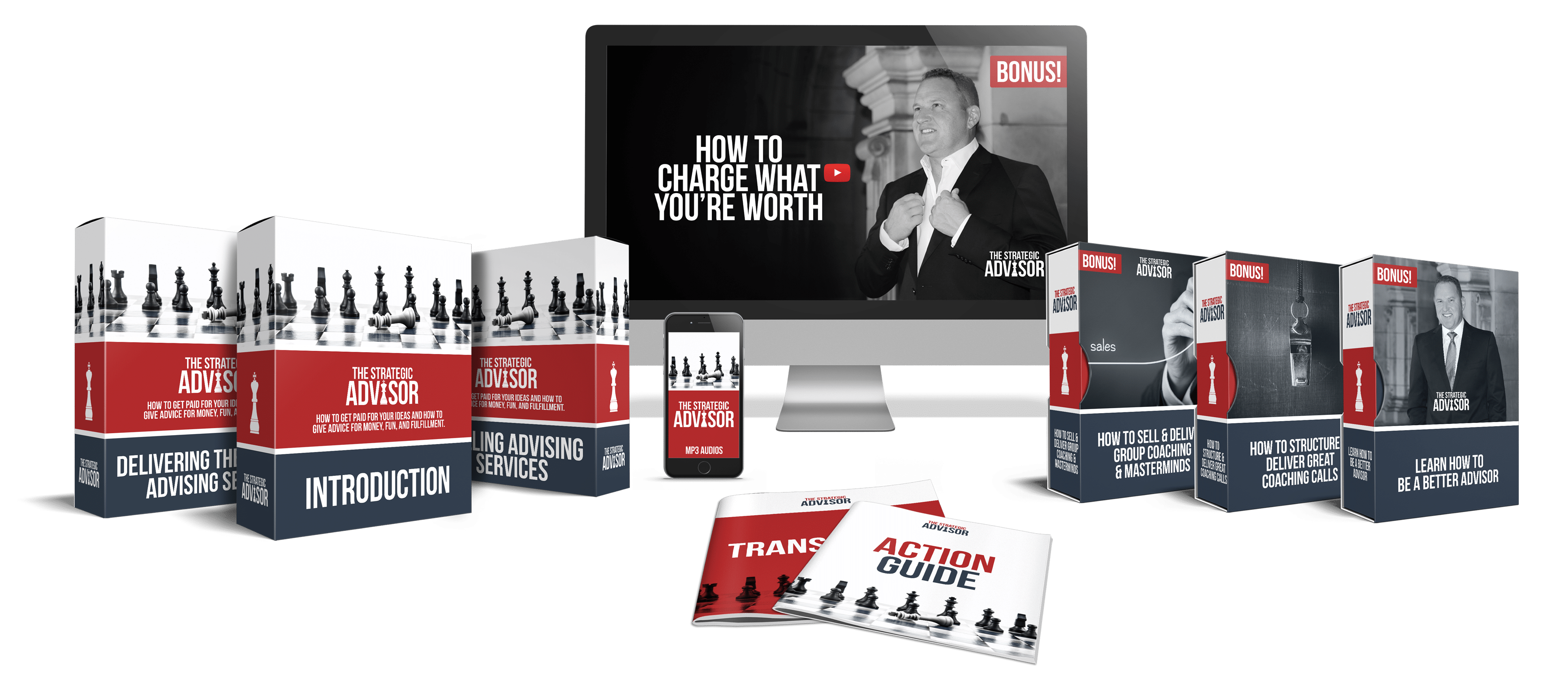 The Revolutionary New "Get Paid For Your Ideas and Not for Your Work" Program
5-Time #1 Best-Selling Author
Internationally Recognized
Speaker & Advisor
Welcome to The Strategic Advisor!
How do you make money with your ideas? The fastest way to build a six and then seven figure business is to simply sell your time in such a way that you can give people, especially business owners, ideas so that they can multiply their time and income.
In The Strategic Advisor course, you'll learn:
How to deliver an amazing consulting or advising session to your students, or the entrepreneurs that you're working with.
How to prospect and close more deals, and get more money into your bank account.
You're going to be working with an entrepreneur or a business owner in helping them grow their business. And what you learn here will be directly applicable to what you do!
Now... Are You Ready to Find Out EVERYTHING You Get In
The Strategic Advisor?
Here goes. You'll receive...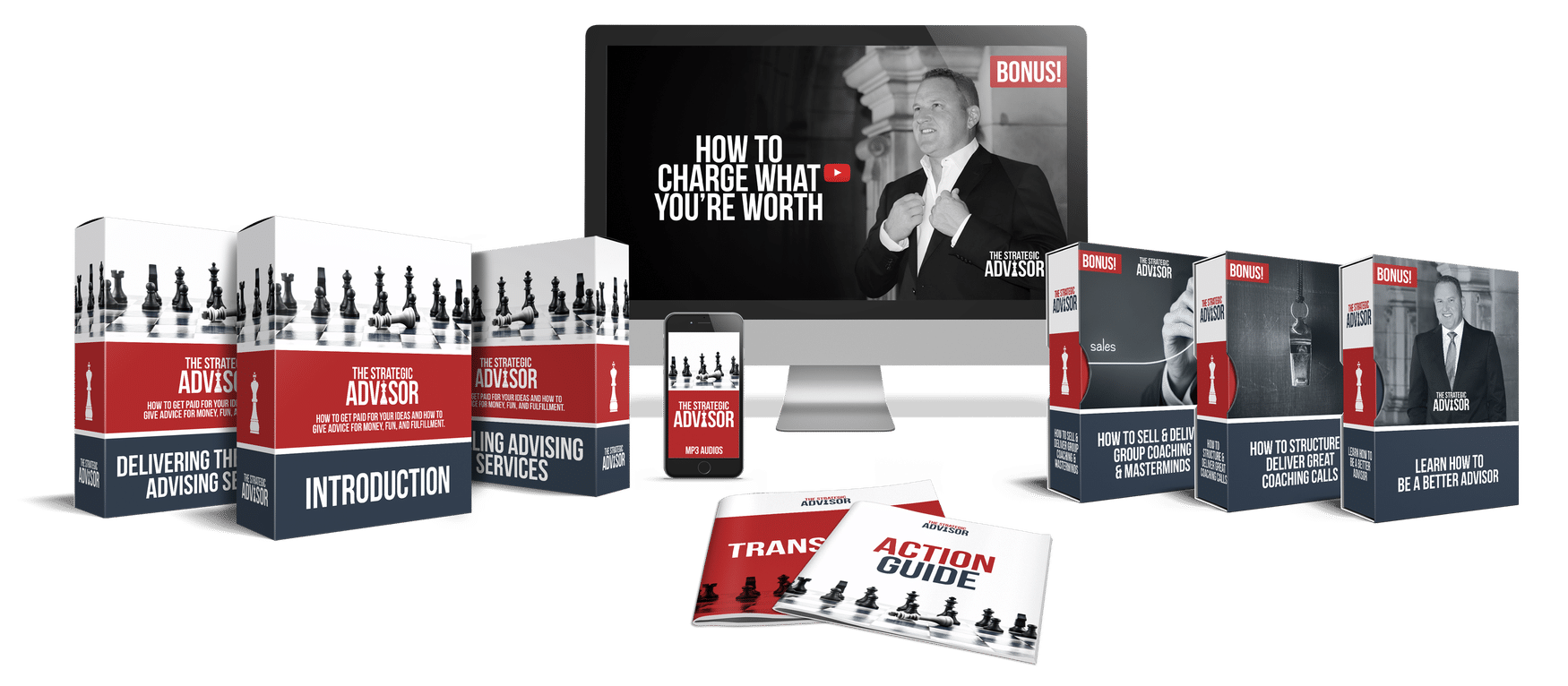 The Strategic Advisor Course
This product is all about two things: DEALS and DELIVERY.
You'll learn how to get people to pay you for your advice and how to deliver a flawless advising session every time.
Inside this groundbreaking product, you will discover...
Ed's Coaching Process that he's used hundreds of times to get to a great client result. Every question, step, and exercise explained so you can do it now...without years of work, effort, and expense.
DONE FOR YOU BONUS: You'll also get all of Ed's forms, proposals, agreements, emails, and exercises... everything you need to run a flawless advising program with none of the work or learning curve.
How to sell advising services. (Hint: there are 3 Main Ways to sell high ticket strategic advising and Ed will break down all 3 for you).
Each video lesson also includes: Printable action guides, MP3 audios, and printable video transcripts.

Sharpen Your Skills with these Additional Bonuses!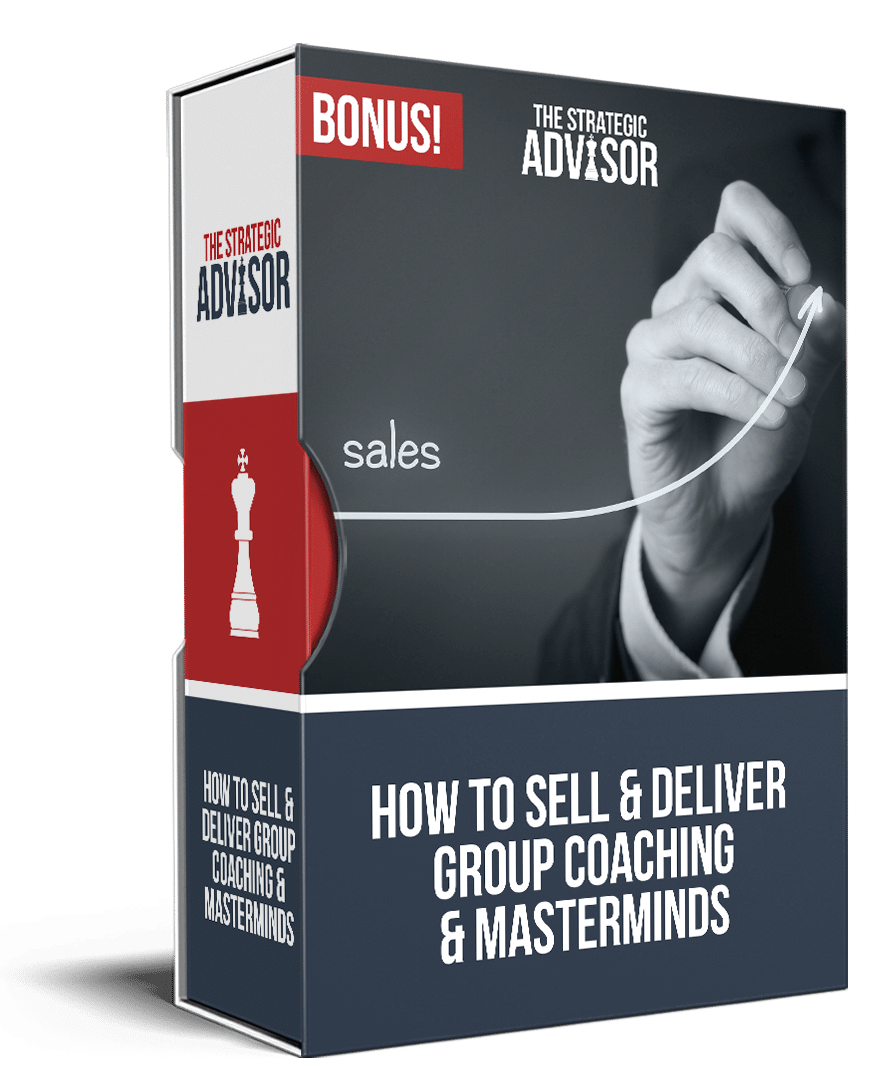 How to Sell & Deliver Group Coaching and Masterminds
Find out how to sell and deliver group coaching sessions and Masterminds.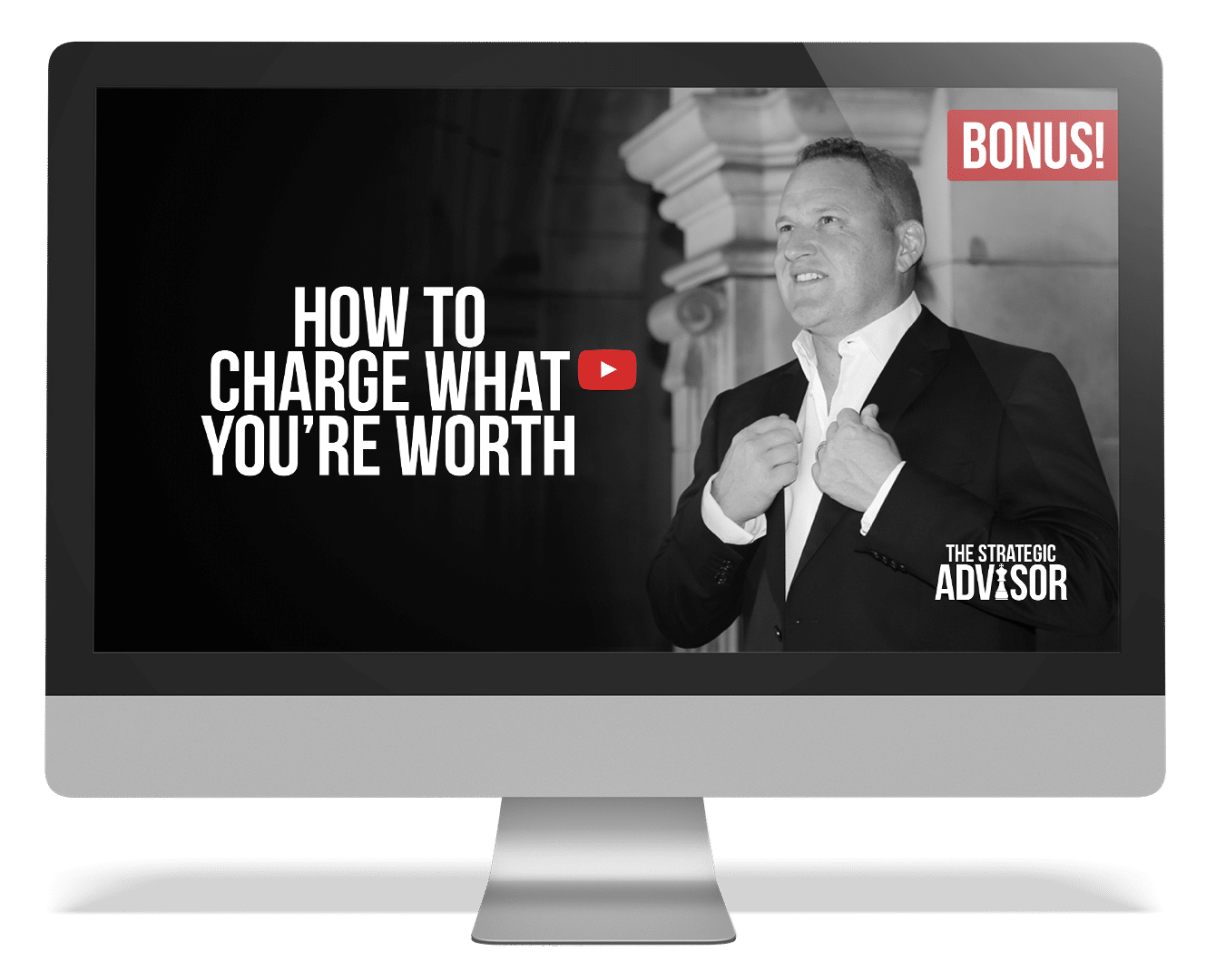 How to Charge What You're Worth
The difference between a $5,000 deal and a $30,000 deal is exactly $25,000. The difference between you getting 30K or 5K is what? It's really actually two things. Two things.
One is whom you're talking to. Second, it comes from your confidence. Avoid the biggest mistake entrepreneurs who want to be advisors do... sabotage themselves!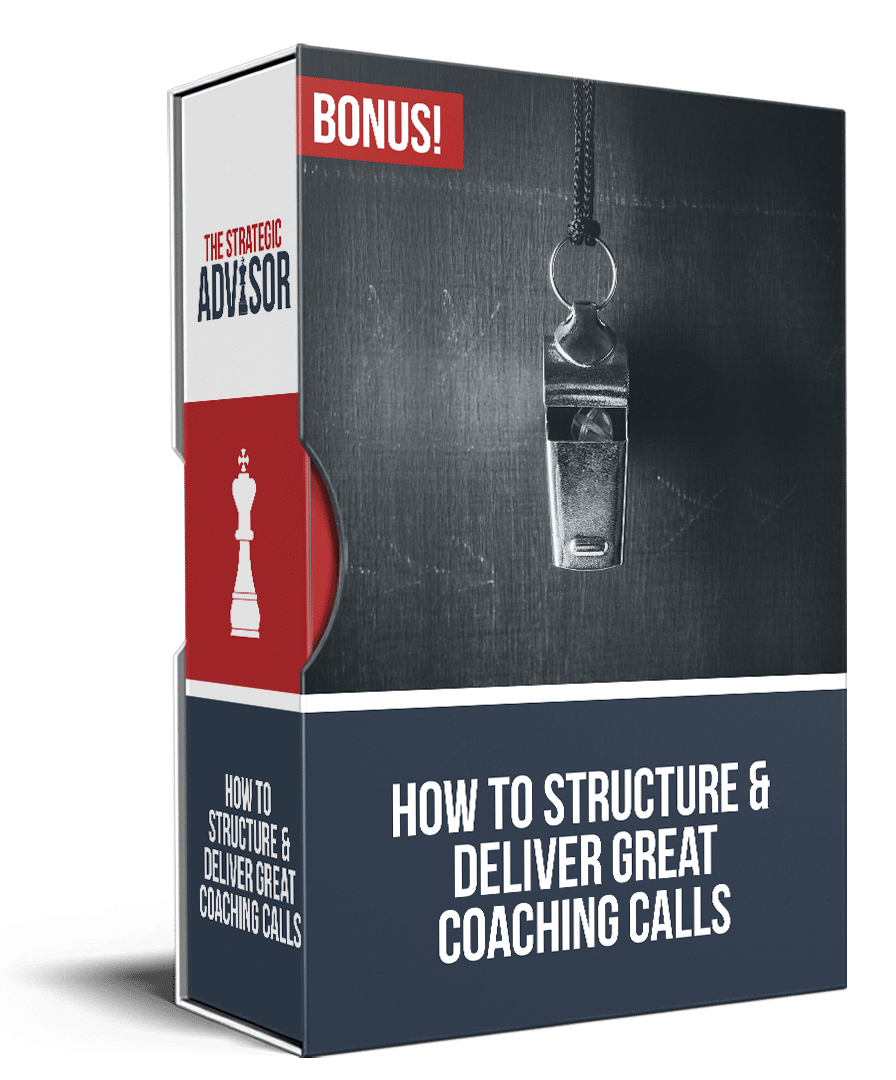 How to Structure and Deliver Great Coaching Calls
Learn how to structure and deliver great coaching calls. 
When Ed does his 30 minute sessions, it's always on the phone, find out why!
Get In On This Incredible Deal Before This Offer Expires
Sound Advice from THE Strategic Advisor
Ok, by now you might be saying to yourself…
"I like it and I am interested. But how do I know this will work? 
Good question!
Here's how this works. You pay today and you get access to EVERYTHING. 
In other words, you get thousands of dollars of marketing and money-making training and support.
You have 30 days to try everything out. Use the system, the tools, the scripts, the presentations, the book, and the software. If you're not completely blown away by everything you learn and making money from the system, just send it all back and you'll get a refund. No questions asked...and we can still be friends.
Listen, I get it. This isn't right for everyone and it might not be right for you.
That said, I know you're going to be thrilled and totally "in" after 30 days.
Your job: just give it a shot.
My job: knock your socks off with content that changes your life and your bank account.
And to be totally blunt, if you can't make back $997 with everything that you learn and receive, you don't have a business!
In other words, taking me up on this  is a Total No-Brainer.
So go ahead and follow the link below and get started now.
DISCLAIMER: We've taken every effort to ensure we accurately represent our product and it's potential to help you grow your business. However, there is no guarantee that you will earn any money using the techniques you learn from us. Your level of success in attaining similar results to results mentioned is dependent upon a number of factors including your skill, knowledge, ability, dedication, business savvy, network, financial situation, and luck. Any forward-looking statements outlined on our sites or in our products are simply our view of future potential, and thus are not guarantees or promises for actual performance. As stipulated by FTC law, we make no guarantees that you will achieve any results from our ideas or models presented in the products, and we offer no professional legal or financial advice.