The 21-Day Time Freedom Miracle
Get More Done in Less Time with Less Waste,
Finally Allowing Yourself the Freedom to Enjoy Life

Do you want to take more time off, have more time for a hobby, AND take longer vacations? This is the course for you!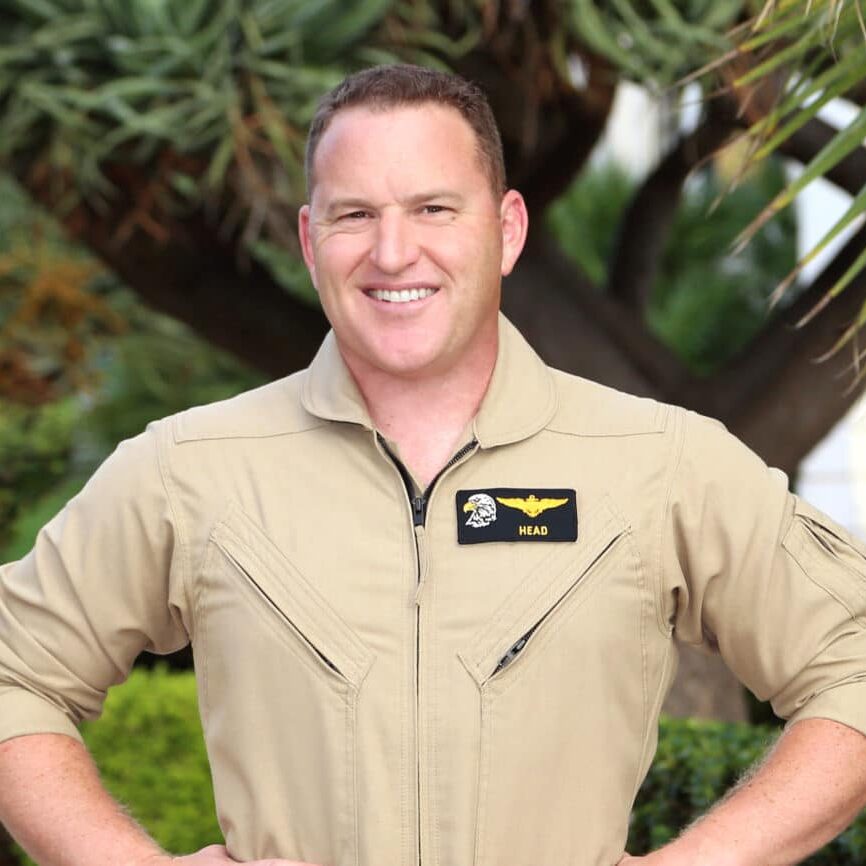 5-Time #1 Best-Selling Author
Internationally Recognized
Speaker & Advisor
Welcome to the 21-Day Time Freedom Miracle. 
My name is Ed Rush, former F-18 fighter pilot, entrepreneur, business owner, and your host to help you get more of your time back, so that you can accomplish your dreams and your visions to totally change the world.
Time is moving forward very fast, and most people will tell you they feel like they don't have enough time. If you're going to accomplish the goals that you're going to accomplish in the world, you're going to have to leverage your time, and to do it really, really, really well.
This course is designed so that in the space of 21 days, you'll have taken complete mastery over your time. Instead of time owning you, you will own time.
Now... Are You Ready to Find Out EVERYTHING You Get
In The 21-Day Time Freedom Miracle?
Here goes. You'll receive...
The 21-Day Time Freedom Miracle Course
Achieve TIME MASTERY with a single 21-Day Time Freedom SPRINT.
You will discover the fighter pilot principles for getting more done, faster, and more effectively.
Learn how to break through the "Multi Tasking Myth" to get more done simultaneously and focus your subconscious on only the most important tasks.
Completely turn ON Task Afterburner so you can end your days earlier, take more weekends off, and spend more time with your family.
Each video lesson also includes: Printable action guides, MP3 audios, and printable video transcripts.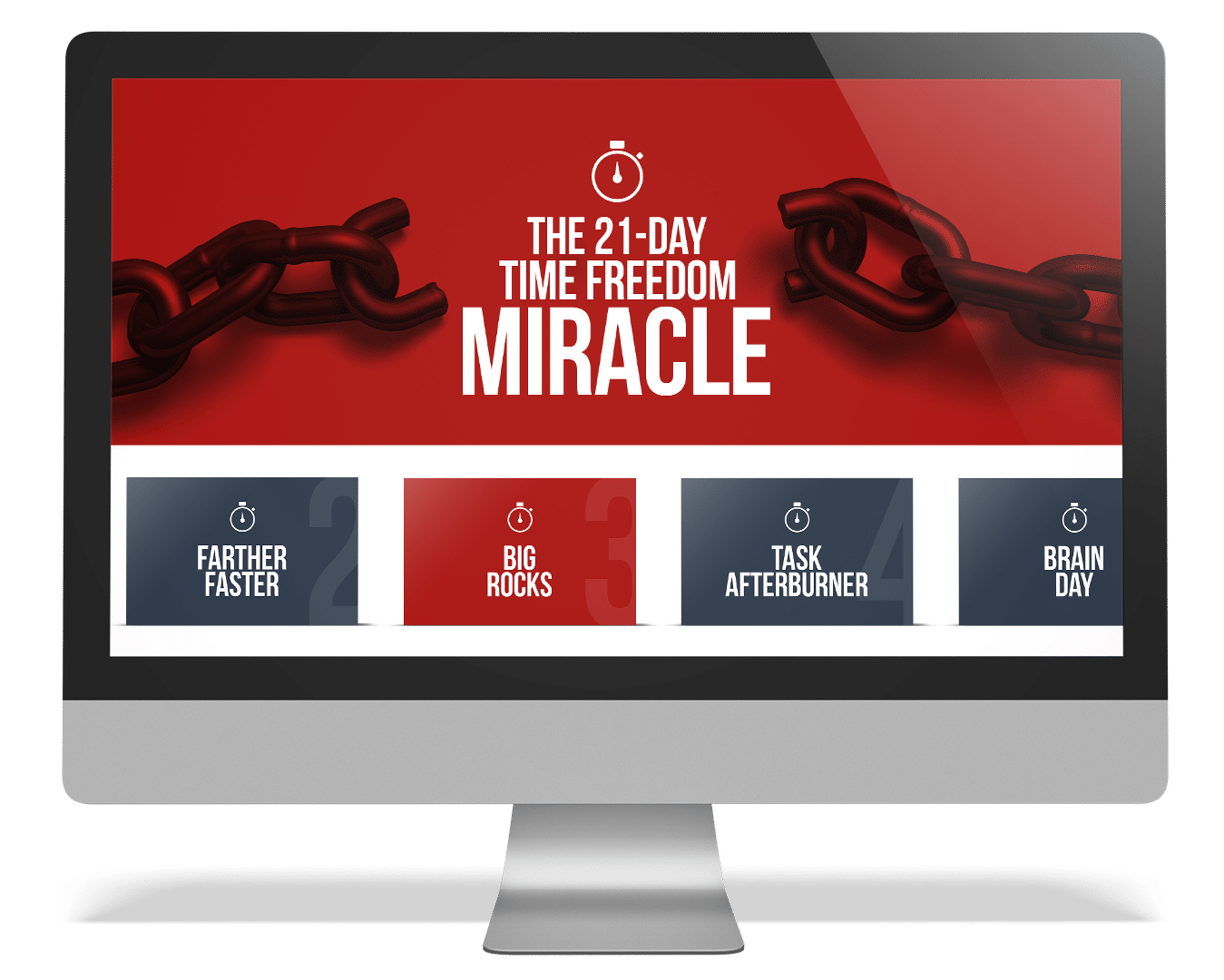 Sharpen Your Skills with this Additional Bonus!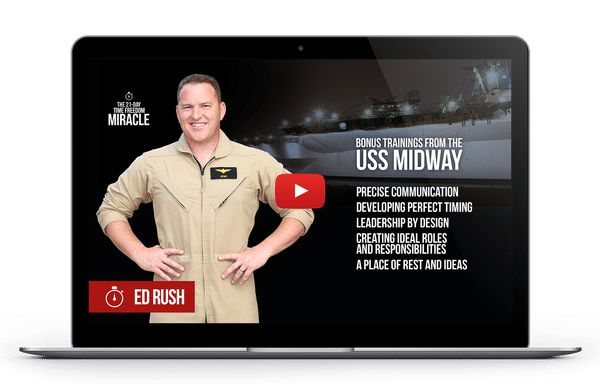 Bonus Trainings From the USS Midway
Go (virtually) on board the USS Midway and find out how the Navy Aircraft Carrier can show you how to make more money, build better teams, and take more time off!
As you're being more productive, you have to be aware that the way you communicate is almost always not as clear as you think it is!
Get In On This Incredible Deal Before This Offer Expires
My 30-Day Promise on Your 21-Day Miracle!
Ok, by now you might be saying to yourself…
"I like it and I am interested. But how do I know this will work? 
Good question!
Here's how this works. You pay today and you get access to EVERYTHING. 
In other words, you get thousands of dollars of marketing and money-making training and support.
You have 30 days to try everything out. Use the system, the tools, the scripts, the presentations, the book, and the software. If you're not completely blown away by everything you learn and making money from the system, just send it all back and you'll get a refund. No questions asked...and we can still be friends.
Listen, I get it. This isn't right for everyone and it might not be right for you.
That said, I know you're going to be thrilled and totally "in" after 30 days.
Your job: just give it a shot.
My job: knock your socks off with content that changes your life and your bank account.
And to be totally blunt, if you can't make back $597 with everything that you learn and receive, you don't have a business!
In other words, taking me up on this  is a Total No-Brainer.
So go ahead and follow the link below and get started now.
Best,
Ed Rush
P.S. This is a limited market test, so enroll now before I take this offer away and raise the price back to $997. (This is a real amount that people have paid for this BTW).
So take action now and get in before this is GONE!
DISCLAIMER: We've taken every effort to ensure we accurately represent our product and it's potential to help you grow your business. However, there is no guarantee that you will earn any money using the techniques you learn from us. Your level of success in attaining similar results to results mentioned is dependent upon a number of factors including your skill, knowledge, ability, dedication, business savvy, network, financial situation, and luck. Any forward-looking statements outlined on our sites or in our products are simply our view of future potential, and thus are not guarantees or promises for actual performance. As stipulated by FTC law, we make no guarantees that you will achieve any results from our ideas or models presented in the products, and we offer no professional legal or financial advice.