Define Abundance: How Do You Hit an Unidentified Target?
The answer is…
You don't!
In this short video, I'll briefly explain the importance of defining the target (specifically what abundance means to you).  
The good news is that once it's a target, you can hit it.
Watch it HERE:
As a highly trained, Marine F-18 Fighter Pilot, I am very good at hitting targets.  If you give me a target there's a 98% chance I'll hit it.  And, the 2% of time I miss the target, those scenarios usually don't turn out too bad either.  After all, "if you shoot for the moon, and you miss, you'll still find yourself amongst the stars."
Now, don't start down that mopey path of self-doubt, "ya, that's great for Ed, but I'm not a Marine Fighter Pilot."
The truth is, as human beings, we are ALL wired to hit targets.  That's what made us good hunters as cavemen, and it's what makes us successful entrepreneurs today!
But, that also means this is the trap that too many entrepreneurs find themselves drowning in…  They get so caught up just putting out day-to-day fires, they forgot about the target.  And if there's not a target, there's nothing to hit. So we just swim in circles waiting for something to happen.
Well, not today.
If you're tired of swimming in circles, stop.  Watch this video:
Then, define what abundance means to you and get onto success.
Look, I know this task is so simple, but I know you're going to get extreme value from it.  I also know that you'll be wanting more of where that came from. So, how about if you join me for 3 solid days of more life-changing, business-changing guidance?
Well, your opportunity to do this is right around the corner…
I'd like to personally invite you to join me at my Ultimate Breakthrough Event, October 10-12, in Dallas, TX.  Click HERE to join me.
In just three days with me (yes me, not a bunch of other "filler" speakers), we will identify your PURPOSE, create a PLAN, and prepare you for increased PROFIT!  This is not just "good information."  You will leave the event ready for your business to explode!
Seats are limited to this event, click HERE to reserve yours now.
Best,
Ed
About The Author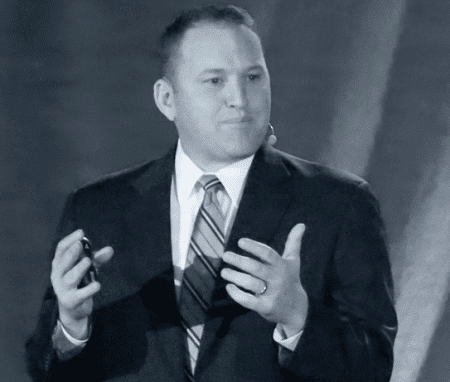 Ed Rush is a world-renown speaker, a five-time #1 bestselling author, and a highly successful business consultant who was featured on CBS, Fox, ABC, and NBC. He has spent a significant amount of time in the cockpit of an F-18 fighter jet, so he knows the value of strategy and the power of focus. He has effectively taken the principles that he learned flying faster than the speed of sound, and translated them into good business. His clients range from small startups to multinational organizations, and include CEOs, founders, political leaders, sports teams, national universities, Hollywood stars, and even a contestant on Donald Trump's The Apprentice. To buy any of Ed's books, visit his bookstore right now or hire Ed to speak at your next event.