The Ultimate Marketing-Mastery and Money-Making Product Bundle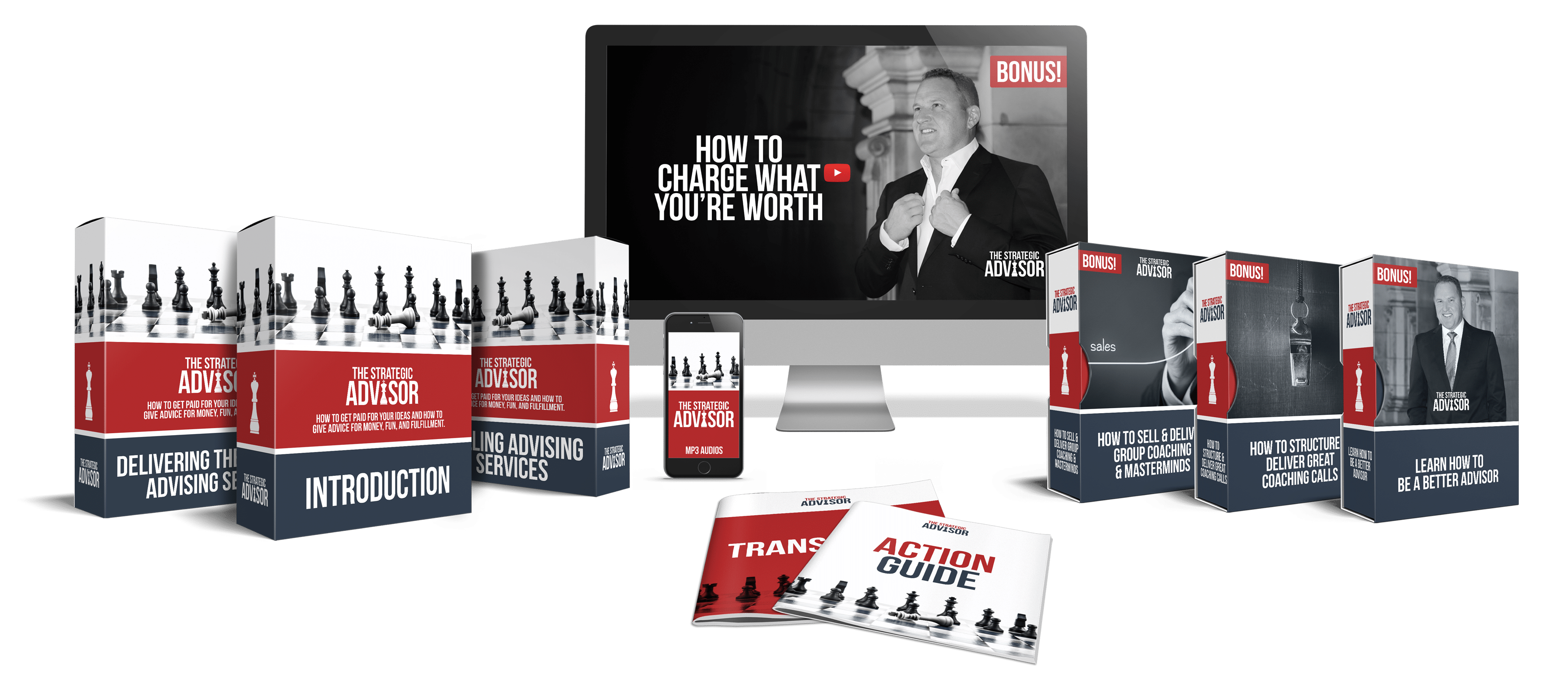 Discover How to Make More Money, Become More Persuasive, Get More "Yes's" and Take WAY More Time Off
5-Time #1 Best-Selling Author
Internationally Recognized
Speaker & Advisor
My name is Ed Rush, I'm a former fighter pilot and your trainer to help you make more money, become more persuasive, get more "yes's" and take way more time off!
This can only be done with my Ultimate Marketing-Mastery and Money-Making Product.  This bundle delivers my top 3 best-selling products:
The Secret Weapon: Communicate with certainty, persuasion, and influence so people are magnetically attracted to you and your business.
The Strategic Advisor: Get paid for your ideas and give advice for money, fun, and fulfillment.
21-Day Time Freedom Miracle: Get more done in less time with less waste, finally allowing yourself the freedom to enjoy life.
If you're looking for the ultimate level of success and life-fulfillment, then you need the ultimate road map to get there.  Your journey starts here…
Now... Are You Ready to Find Out EVERYTHING You Get In The Ultimate Marketing-Mastery and Money-Making Product Bundle?
Here goes. You'll receive...

The Secret Weapon
How to Communicate with Certainty, Persuasion, and Influence So People Are Magnetically Attracted To You and Your Business
Discover how to lay a foundation for every deal so you get more customers with less effort... and the best part is you won't sound like you're selling at all!
Bonus #1: Persuasion Masters – Learn the persuasion secrets of Ronald Reagan, Steve Jobs, Winston Churchill, Martin Luther King, Abraham Lincoln and more!
Bonus #2: Customer Connection Exercise – Discover how to know with 100% certainty how to connect with any customer, anywhere, anytime.
Bonus#3: Online Copywriting Session – How to Create Landing Pages, Websites and Sales Pages that convert.
Bonus #4: Speaking Segment – How to Create a Talk That Closes BIG Deals
Bonus #5: Selling Mastery – How to Close Big Deals by Asking Good Questions
"Get Your Money Back" BONUS – How to Out Negotiate a Used Card Salesman
"Get Your Mojo Back" BONUS – How to Win An Argument with Your Spouse

The 21-Day Time Freedom Miracle
Get More Done in Less Time with Less Waste, Finally Allowing Yourself the Freedom to Enjoy Life
Run a single 21-Day Sprint to achieve TIME MASTERY.
Do you want to take more time off, have more time for a hobby, AND take longer vacations? This is the course for you!
Discover the fighter pilot principles for getting more done, faster, and more effectively.
PLUS, go (virtually) on board the USS Midway and find out how the Navy Aircraft Carrier can show you how to make more, build better teams, and take more time off!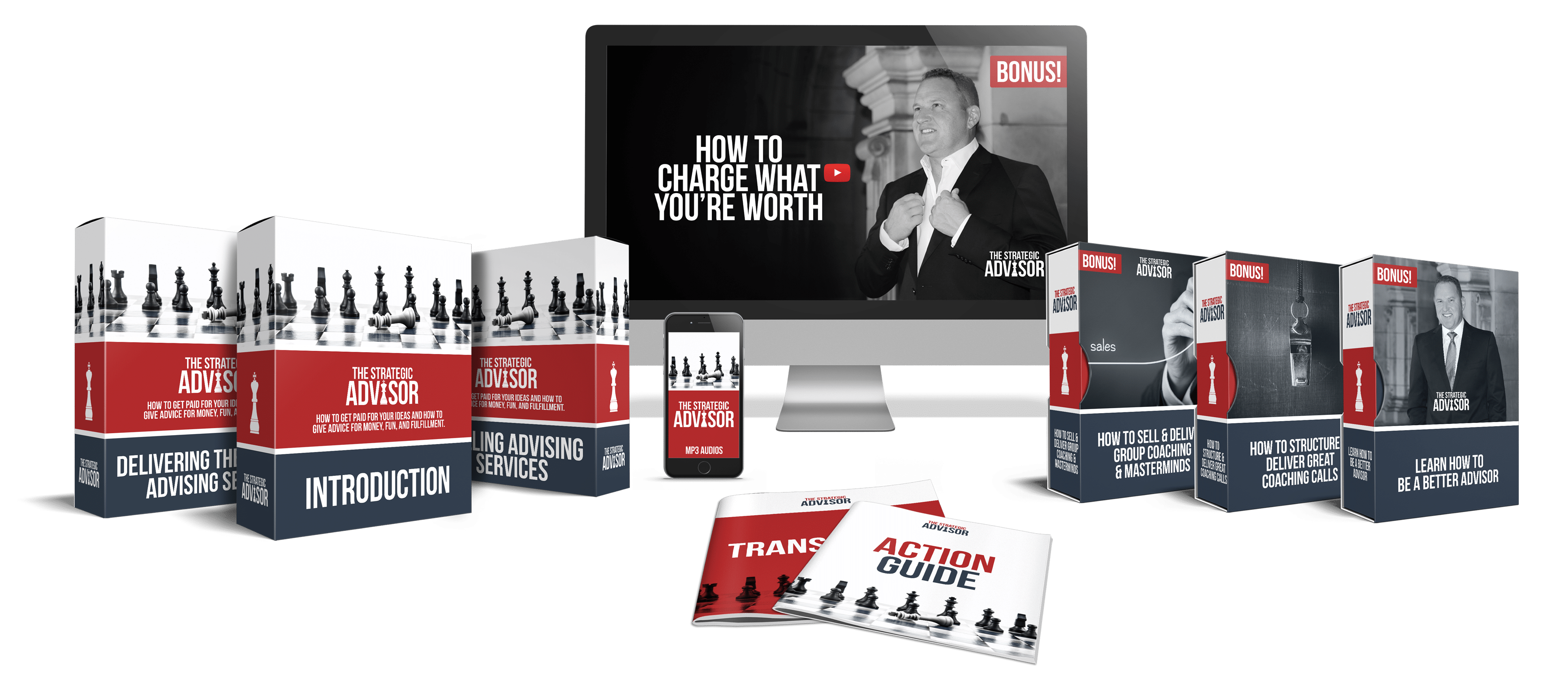 The Strategic Advisor
How to Paid for Your Ideas and How to Give Advice for Money, Fun, and Fulfillment
This product is all about two things: DEALS and DELIVERY.
You'll learn how to get people to pay you for your advice and how to deliver a flawless advising session every time.
Inside this groundbreaking product, you will discover...
Ed's Coaching Process that he'd used hundreds of times to get to a great client result. Every question, step, and exercise explained so you can do it now...without years of work, effort, and expense.
DONE FOR YOU BONUS: You'll also get all of Ed's forms, proposals, agreements, emails, and exercises everything you need to run a flawless advising program with none of the work or learning curve.
How to sell advising services. (Hint: there are 3 Main ways to sell high ticket strategic advising and Ed will break down all 3 for you).
Get In On This Incredible Deal Before This Offer Expires
Ok, by now you might be saying to yourself…
"I like it and I am interested. But how do I know this will work? 
Good question!
Here's how this works. You pay today and you get access to EVERYTHING. 
In other words, you get thousands of dollars of marketing and money-making training and support.
You have 30 days to try everything out. Use the system, the tools, the scripts, the presentations, the book, and the software. If you're not completely blown away by everything you learn and making money from the system, just send it all back and you'll get a refund. No questions asked...and we can still be friends.
Listen, I get it. This isn't right for everyone and it might not be right for you.
That said, I know you're going to be thrilled and totally "in" after 30 days.
Your job: just give it a shot.
My job: knock your socks off with content that changes your life and your bank account.
And to be totally blunt, if you can't make back $1,997 with everything that you learn and receive, you don't have a business!
In other words, taking me up on this  is a Total No-Brainer.
So go ahead and follow the link below and get started now.
Best,
Ed Rush
P.S. This is a limited market test, so enroll now before I take this offer away and raise the price. (This is a real amount that people have paid for this BTW).
So take action now and get in before this is GONE!
DISCLAIMER: We've taken every effort to ensure we accurately represent our product and it's potential to help you grow your business. However, there is no guarantee that you will earn any money using the techniques you learn from us. Your level of success in attaining similar results to results mentioned is dependent upon a number of factors including your skill, knowledge, ability, dedication, business savvy, network, financial situation, and luck. Any forward-looking statements outlined on our sites or in our products are simply our view of future potential, and thus are not guarantees or promises for actual performance. As stipulated by FTC law, we make no guarantees that you will achieve any results from our ideas or models presented in the products, and we offer no professional legal or financial advice.