Monthly Miracle Membership
The ULTIMATE Marketing and Personal Mastery Program
You Get Instant Access to the ULTIMATE Marketing and Personal Mastery Program on Planet Earth!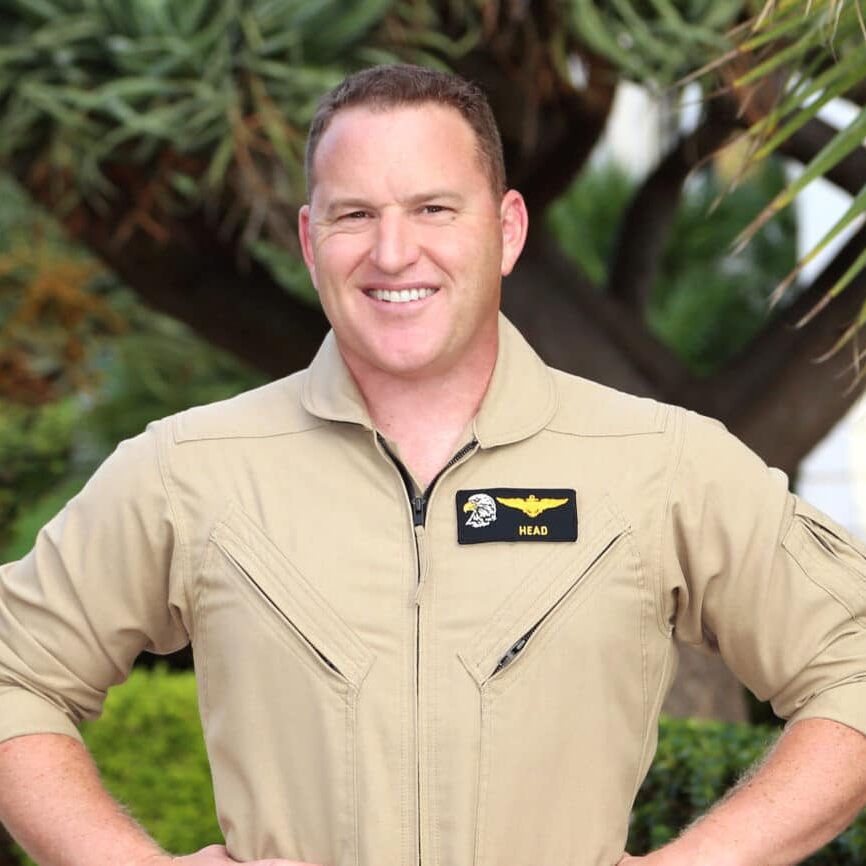 From: Ed Rush, Former Fighter Pilot and #1 Best Selling Author of
The 21-Day Miracle
If you're willing to take me up on the "biggest no-brainer ever" I'll bend over backwards to help you accomplish your dream, goal, and mission for the world.
That's because (for a limited time), I am opening up access to my Miracle Membership Club for just $1.
People keep telling me it's too cheap.
They say that I am "devaluing content-packed program."
I get that. And I appreciate their advice.
It's just that I am so convinced that this Miracle Membership is going to change your life and destiny for GOOD that I'm doing everything in my power to encourage you to give it "the old college try."
Is there a catch?
Totally.
The catch is you're going to try everything for a month. You'll have access to the coaching calls, the 1-on-1 attention, the chance to get your specific questions answered, the private Facebook group, the bonus calls, and more.
Then after a month, if you're like my other members, you're going to be running to your inbox every day because you've seen the results in your life and business...and you LIKE what you see.
In other words, I think you're going to (gladly) be a member for a really long time.
But let's not assume that.
Let's just assume that you're going to "try" it for a month.
And then you'll decide.
If I haven't proven beyond a reasonable doubt that this is the single-BEST business-building, income-exploding, time-freeing club you've ever experienced, then go ahead and cancel and we can still be friends.
Now... Are You Ready to Find Out EVERYTHING You Get In Miracle Monthly Membership?
Here goes. You'll receive...
Once per month LIVE virtual or call-in event on a new, hot, or timely topic.
You'll get REAL examples of "what's working now" along with an open time for Q&A normally revolving around…
Traffic generation

Customer conversion

Copywriting

Sales

Marketing

Positioning

Publishing

Content Creation

Speaking

Getting Media Exposure

Branding

Money-Making

And a Lot MORE
This monthly community event is the CORE of the Miracle Membership. This is the hour that you'll be looking forward to each month. That's because every month, you'll get to hear and see what's working now. Not what worked last month or last year. NOW.
This audio or virtual streaming event is designed with one thing in mind: for you to walk away with at least one thing that you can implement in your life or business that flat out works.
Ed's Monthly Challenge
On the monthly call-in event, you'll also get your Monthly Challenge.
This is one thing that I am going to challenge you to do that will create massive leverage and impact in your business. I also participate in the monthly challenge with you.
And you get group accountability from the other members so you know you'll get it done.
For example, this past month's "Challenge" was to set aside one full work day to do nothing other than think and create content. It just so happens that today is my day for that. So here I sit in a private work space up in the mountains, coffee cup in hand, writing this letter to you.
These "Challenges" work...and if you're being perfectly honest with yourself you know that you need someone like me to hold your feet to the fire.
Plus you'll also get the…
Video or audio recording of the LIVE virtual or call-in event sent to you for repeat listening.
That way, if for some reason you can't make the monthly event, you can connect online, get back up to speed, and get onto seeing the results in your life and business.
Miracle Membership PRIVATE Facebook Group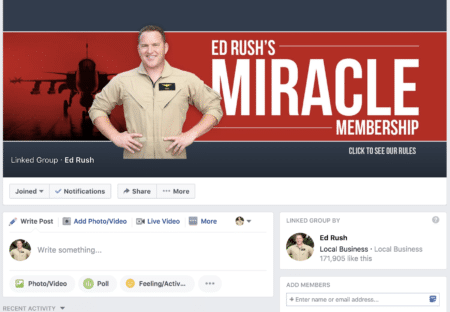 This is a place where you can connect with other members and get your questions answered. It's a membership community filled with abundance-minded, heart-centered, action-taking entrepreneurs.
Listen, if all you did was join the Club and get access to the Facebook group of smart folks, it would be worth it.
Once Per Month Hot Seats
This is your chance to get 1-on-1 coaching with me or one of my guests. Should you get chosen, you get the chance to get real live feedback and coaching on your business, idea, product, or brand.
When you're not on the Hot Seat, you get to watch the whole process in action and get Real Life implementation ideas from other business models.
This is HUGE.
Members tell me the Hot Seat sessions are worth a year in membership (and more). The only other way to coach with me starts in the five-figure range. You're getting it for a DOLLAR.
Sheesh...that's a good deal
Every other month, we host a LIVE "Hearing from your Creator" session.
Listen, I know this sounds a bit "hokey" and perhaps too good to be true. But don't forget: I am a Marine. I'm all about results. I've helped hundreds of people with a very simple process that you can learn in minutes. And just so you know. This isn't a "religious" event. It's a mind-mastery event...and you can do this no matter what you believe.
On these calls, I will lead you through an exercise where you can participate and hear what your Creator is saying about you, your business and your money. These sessions open up so you get the opportunity to ask your questions and hear insights on specific direction and decisions you need.
Every few months, I do a LIVE 1-on-1 call in sessions.
This works like a radio show. You get a call-in number and if you get through, you get a 20-minute coaching slot with me to cover your most important business issues with actual ideas for implementation.
Listen, I rarely do private coaching and when I do, it's EXPENSIVE. This kind of coaching with me is WORTH IT and can totally accelerate your income, impact, and lifestyle.
FREE admission to larger annual events.
And
Discounted tickets to smaller specific-topic Boot Camps.
Here is my rule: members come first. Always. That means when it comes to my bigger annual events, I want you there and you don't have to pay a dime.
When it comes to my more expensive training events, you're going to get a steep discount that makes everything you paid into membership worth it.
Get In On This Incredible $1 Trial Before This Offer Expires
Ok, by now you might be saying to yourself…
"I like it and I am interested. But how does this work? I pay a Dollar now and then what?"
Good question!
Here's how this works. You pay a single Dollar ($1) today. That Single-One-Dollar-Bill buys you 30 days of access into the Miracle Membership. You get all the calls, access to the private Facebook group, all of the coaching, all of the resources, and access to some past calls and events.
In other words, you get thousands of dollars of marketing and money-making training and support.
If after 30 days, you're not totally blown away, just let us know in whatever way works best for you (usually email) and we'll cancel your membership right away.
Listen, I get it. This isn't right for everyone and it might not be right for you.
That said, I know you're going to be thrilled and totally "in" after 30 days.
Your job: just give it a shot.
My job: knock your socks off with content that changes your life and your bank account.
After 30 days, and only after you're totally convinced that this is right for you, you'll automatically go into Miracle Membership as a full-fledged member and you'll get charged the low member rate of $97 a month.
And to be totally blunt, if you can't make back $97 a month with everything that you learn and receive, you don't have a business!
In other words, taking me up on this $1 Trial is a Total No-Brainer.
So go ahead and follow the link below and get started now.
Best,
Ed Rush
P.S. I know what you're thinking. "I'll just pay a dollar, use all the past resources, and cancel in a month."
Do you want to know a secret?
Everyone says that. And, based on my experience, most of the people who DO say that remain members for years.
Remember: your job is to TRY it.
That's all.
My job is to PROVE to you that it's worth it.
P.P.S. This is a limited market test, so enroll now before I take this offer away and raise the price back to $997. (This is a real amount that people have paid for this Club BTW).
So take action now and get in before this is GONE!