How to Give a Great Podcast Interview and More…(Weekly Flight Brief)
I am going to shift the Flight Brief format and give you a big bonus.
One of the questions I get asked a LOT is how to conduct a great podcast interview.
So instead of telling you, I am just going to show you. All of the tips are below in the email, but the canvas I'm using is a recent interview I did with Mark Patteson. (Hint: if you don't know Mark, he's a former NFL Player who has climbed 6 of the 7 highest peaks in the world (Everest is next). He's also the SVP at Sports Illustrated.)
I was on his show a few weeks ago and my podcast is a breakdown of some of the key podcast strategies listed below.
So, do this now:
Then read the email below

Then implement. Get on some shows and dial in your message.
How to Crush an Interview
Here are 3 quick tips…
Tip #1. Hit a "First Pitch Home Run."
This means coming out strong.
Most interviews are boring.
Most interviews start like this…
Host: "Hey Marvin, thanks for being on the show."
Guest: "Geez, Harold it's such an honor to be on your show. I really appreciate the opportunity…" boring, boring, boring, and  it's only been 20 seconds and now I'm asleep.
Listen, no one cares how thankful you are for being on someone's show.
Say that at the end.
What they really want to know is:
Is this interview going to be interesting?

Is there something in it for me?
That's it. 
Notice that the two questions above have absolutely nothing to do with you. It's all about the listener.
So start fast.
Make it fun.
Break up the normal pattern.
And have fun.
Tip #2. Tell Your Core Story
On the show with Mark Patteson, my story is the 2nd thing that happens right after the intro. 
Now for some insider stuff.
This was a set up. Mark already knew I was going to tell the story of my first carrier landing so you can hear how he asks the question.
When you're telling a core story, it's important to take the time you need for the set up. In the story you're listening to here, it takes some time to get to the true conflict, but all the preamble is important.
Which reminds me…
You know who this story is about?
YOUR AUDIENCE
I know it sounds like your core story about you, but remember that every story is actually about your audience. You can see how I transition out of the story to focus on the audience right at the end of the clip when I start talking about discipline.
Tip #3. Close with a Call to Action (CTA)
Every (good) podcast host knows that the end of the show is where the guest gets to share their freebies. Couple of tips:
Make a simple offer. In the case of the show with Mark it's a subscription to my Weekly Flight Brief.

Make the URL simple. I can't stress this enough. No one is going to go to your site if it's like

Geocities.net/?/goodinfo/??/IamTooCheapToBuyANormalURL

or whatever. I literally say, "This is the easiest website to remember, EdRushBook.com."
Ok, there are some quick tips.
Go listen to the clips, take some notes, and rock this.
Out.
Ed
P.S. Reminder, my podcast has the version with my coaching notes right here.
P.P.S. You can listen to the whole unedited show with Mark Patteson right here.
P.P.P.S. Have you registered yet for The Big Pivot Event (June 25-27). Go do that now. You're not going to want to miss this event. I am only doing this once, so when it's gone, it's gone.
About The Author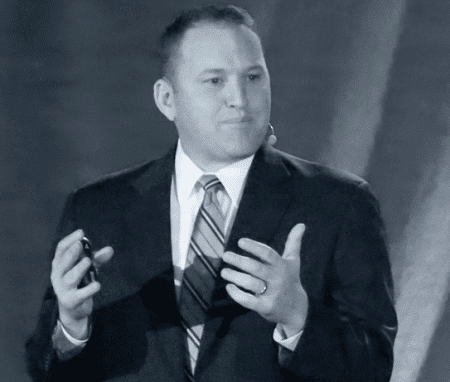 Ed Rush is a world-renown speaker, a five-time #1 bestselling author, and a highly successful business consultant who was featured on CBS, Fox, ABC, and NBC. He has spent a significant amount of time in the cockpit of an F-18 fighter jet, so he knows the value of strategy and the power of focus. He has effectively taken the principles that he learned flying faster than the speed of sound, and translated them into good business. His clients range from small startups to multinational organizations, and include CEOs, founders, political leaders, sports teams, national universities, Hollywood stars, and even a contestant on Donald Trump's The Apprentice. To buy any of Ed's books, visit his bookstore right now or hire Ed to speak at your next event.