Humans Were Not Designed for Consistency
How many times do you start something new and promise yourself that you will "stick to it?"  Maybe that's a new diet, an exercise regime, going to bed early, or a daily practice in the office.
Inevitably, you stop doing it.  Why is that? Is it because you're weak?  
No, you're just not designed to be consistent.
And it doesn't work for nature either. Take a look at just about anything in the real world and you'll see that nature, from teens to watermelons, grows in fits and starts, sprints and stops, struggles and rests.
That's why you have a long trail of gym memberships behind you. You signed up and planned on hitting the treadmill every day for the rest of your life. Now the membership card burns a hole in your pocket while the memory burns a hole in your conscience.
Let me be the first to tell you—it's not your fault.
You were created to be curious, creative, and adventurous.  Your entire being literally wants to create something new, explore a new territory, or solve a new problem.
Once your subconscious determines, "hey, I've already done this, solved this, conquered this, etc.," it initiates a boredom response and immediately invents excuses to get you to break your "consistency."
So, what do you do about this?
Stop fighting nature by trying to be consistent. Instead, learn about the power of sprints.
In fact, you can start today… Join my Monthly Miracle Membership and discover ways to empower yourself and grow your business.  You, me, and other successful entrepreneurs will do 1-2 calls per month and will explore new strategies and activities that you can implement immediately with noticeable results.  Everything we do is "easy and light," but yields significant results!
The investment is small… $1.  That's right, for a single George Washington, I'm inviting you to check out this powerful and impactful group.  Join now. 
If you don't like it (but, you will), there's no further obligation.
So, stop trying to run marathons on the treadmill every day, and join us for a fresh new sprint every month.  Come see what it looks and feels like to perform the way nature intended. Welcome to the world of "easy and light!"  Click HERE  to join us for our next Monthly Miracle Membership call.
Best,
Ed
About The Author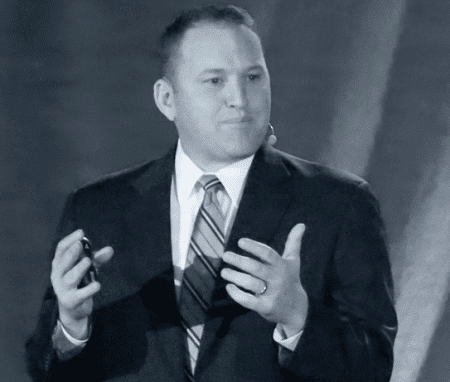 Ed Rush is a world-renown speaker, a five-time #1 bestselling author, and a highly successful business consultant who was featured on CBS, Fox, ABC, and NBC. He has spent a significant amount of time in the cockpit of an F-18 fighter jet, so he knows the value of strategy and the power of focus. He has effectively taken the principles that he learned flying faster than the speed of sound, and translated them into good business. His clients range from small startups to multinational organizations, and include CEOs, founders, political leaders, sports teams, national universities, Hollywood stars, and even a contestant on Donald Trump's The Apprentice. To buy any of Ed's books, visit his bookstore right now or hire Ed to speak at your next event.