On Race and The Future of America
Every Wednesday, I release the Weekly Flight Brief full of tips and strategies to help you share your message, make more money, and change the world.
But frankly, this is a hard week for tips and strategies.
So I am going to interrupt this program to share with you something I wrote 4 years ago. It was after the shooting of Alton Sterling in 2016. A lot has changed in 4 years, but sadly, some things haven't changed at all.
Below is the post I wrote along with the words from a young member of my church.
The rules here are simple: you can criticize me as much as you want, but don't you dare criticize her. Her words were spoken out of a place of grief, so read them and grieve with her.
Of note, I made some small edits to my remarks from 2016 to reflect the current times.
I left her words exactly as she spoke them.
The (abridged) podcast is here
Also, I am doing a live show this afternoon at 1pm PST / 4PM EST with my friend Marquetta Breslin. It's "An Open Conversation About Race and the Future of America."
Come join us live to participate.
On Race and the Future of America
My thoughts…
Number One

– these current situations are very sad and reflect a great need for justice, understanding, repentance, and forgiveness. The white community needs to do several things including: listening, grieving, asking forgiveness, and seeking restoration. In other words, it is ok to say,

"we were wrong."
Number Two

– this situation needs to be discussed openly in the white community without a lot of "yeah, buts" and reasons why. If someone you love is grieving, grieve with them. That is done best by listening first…and then listening some more.

Number Three

– it's impossible to quantify the "privilege" I have received during my life by being white. I am, however, willing to admit that it is significant and I desire that same privilege to be afforded my black and brown friends who I love as my own family.

Number Four

– I have reached out to my friends, allies, and strategic partners in the black community and told them directly that I am sorry for their loss and sense of deep grief, that I do think black lives matter, and that I am 100% committed to praying and acting for a real solution that stands the test of time.

Number Five

– We are literally hundreds of years behind on this issue in America. This should have been solved a long, long time ago, so let's finally come together and get it done. In other words, we can do better. We MUST do better. If my 15-year old daughter should choose at some point to marry a black man, I would hope she could do so in an America that doesn't sneer.
Autumn Howard's brave speech is below. This is what she said to our church, word-for-word. It's super powerful, very thought-provoking and I think you will enjoy it.
Together In Unity,
Ed
Speech Given By Autumn Howard at Bridge Church San Diego on Sunday June 10, 2016
Sometimes the hardest place to be,
is right where you're supposed to be
And I know I asked to be in his will
but sometimes when he leads he blocks the light
and I can't see what's in front of me
see, I'm afraid of the dark
but I know there's an oasis out there waiting on me
but to get there then, i have to be here now
and this ain't easy.
— Andrew Tyree, The Hardest Place
 "On Monday night, a black man by the name of Alton Sterling while pinned down and unable to move, was shot in the head at point blank range by a police officer. On Tuesday night, a black man by the name of Philando Castile, while sitting in his car, was shot in the stomach by a police officer while complying with his directive to show his license and registration.
These two men were added to a growing list of hashtags of black people unjustly murdered by law enforcement in 2016. Many of you in your seats right now will subconsciously try to explain away the evil by saying, "yes it's unfortunate but we don't know exactly what happened."
Or "Yes, it's horrible but if they had only complied and followed the directions of the police they'd still be alive."
Don't do that.
Moral purity and spotless decision making are not prerequisites to go home. Ineptitude does not warrant the loss of life. Translation: YOU DON'T GET TO KILL ME BECAUSE YOU DON'T LIKE ME.
Some of you may be asking about hip hop and black on black crime, again, I say this in the most loving way…
STOP.
Black on black crime, while a catchy phrase is not a thing. Sociologically speaking, people commit crimes against those who are in close proximity to them. If we took all media stereotypes into consideration, people should be terrified of black men because they are thugs, Mexicans because they're members of the cartel, Muslim because they're terrorists and white men because they are perverts.
This past week has been tough for many people, myself included. I've felt a tremendous amount of anger and my pillow has been soaked with tears. The difference between many of you in this room and I, is that this was only one week in your lives and it will pass. However, this week is a picture of the pervasive experience of black people in this country.
Brothers and sisters, may I entreat your hearts for a moment. America has a race problem. It isn't a new one and it isn't isolated to the horrific events of this week. No, our race problem is as American as protests and baseball, free speech and apple pie. It is baked into the DNA of our country and while America has come far from 1776, we haven't come far enough. That is why the "Black Lives Matter" movement exists. The Black Lives Matter movement is an affirmation of black folks' contributions to this society, our humanity, and our resilience in the face of deadly oppression while being an ideological and political intervention in a world where black lives are systematically and intentionally targeted for demise.
To be clear, there is no need to affirm "All Lives Matter" as a response to "Black Lives Matter" because when we say "Black Lives Matter," we are not saying "Black Lives Matter only," but "Black Lives Matter too."  These three black women, who don't self-identify as Christians, have in three words summed up a very basic Biblical principle, "The Imago Dei."
Genesis 1:27 tells us
So God created human beings in his own image.
In the image of God he created them;
male and female he created them.
This means that regardless of ethnicity, gender, sexuality or ability, occupation or life decisions, every single human being is an image bearer of God. For that reason alone as people of God, must treat them with honor, dignity, and respect.
Thursday five police officers were murdered in the line of duty during a peaceful protest by members and supporters of the "Black Lives Matter" movement. That event was also tragic, but there was no doubt that the Dallas Police would pursue immediate justice for their slain officers. However, justice for black people in America is like that aunt that only shows up at Christmas with the most useless gifts – but you must plaster on a smile and say thank you and about once every decade she surprises you with a gift you can actually use.  We cannot let the injustices of our country outshine the heart of justice of our God.
Isaiah 1:17
Learn to do good. Seek justice. Help the oppressed. Defend the cause of orphans. Fight for the rights of widows.
Proverbs 29:7
The godly care about the rights of the poor; the wicked don't care at all.
Zechariah 7:9
This is what the Lord of Heaven's Armies says: Judge fairly, and show mercy and kindness to one another.
Psalm 106:3
There is joy for those who deal justly with others; and always do what is right.
Micah 6:8
He has shown you O man what is good, And what does the Lord require of you but to do justly love mercy and to walk humbly with your God.
The time has run out on our clock of complacency and we can no longer press the snooze button on ushering in the justice of our King.  Jesus while on this Earth, called us the salt of the Earth and the light of the world. We should be leading the charge and demonstrating true love, grace, peace, mercy, and justice – all the while condemning the evil all around us.
The question is: what should we do? Do we update our Facebook status to read #blacklivesmatter? Do we take a picture with the nearest person of color to prove that we support them?
No.
We do what Jesus did. We see a problem, divest ourselves of privilege, while not divesting ourselves of the Holy Spirit, and we enter into the pain and frustration of this world. We proclaim the truth of the Gospel while mourning with those mourn. We don't just pretend to love others. Really love them. Hate what is wrong. Hold tightly to what is good.
We do it together. That is where we start and by the grace of God the love of Jesus and the power of the Holy Spirit we will see a world transformed."
Great speech, right? What do YOU think? How has your life been affected or moved by these injustices for black lives? Remember, I'm looking for honest, helpful comments and viewpoints.
About The Author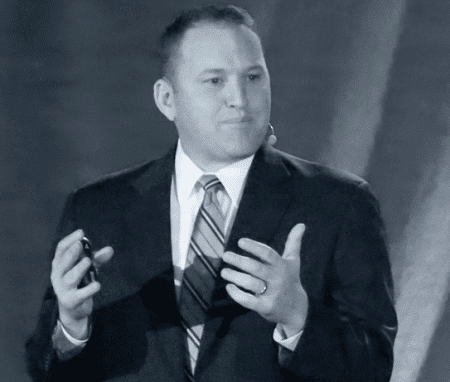 Ed Rush is a world-renown speaker, a five-time #1 bestselling author, and a highly successful business consultant who was featured on CBS, Fox, ABC, and NBC. He has spent a significant amount of time in the cockpit of an F-18 fighter jet, so he knows the value of strategy and the power of focus. He has effectively taken the principles that he learned flying faster than the speed of sound, and translated them into good business. His clients range from small startups to multinational organizations, and include CEOs, founders, political leaders, sports teams, national universities, Hollywood stars, and even a contestant on Donald Trump's The Apprentice. To buy any of Ed's books, visit his bookstore right now or hire Ed to speak at your next event.