The NEXT Pivot (Weekly Flight Brief)
Remember last week when I introduced the concept of "The BIG Pivot?" We are going deeper on that today. In just a few short minutes, you'll know…
How to take advantage of a 80-year world reset 

So you can create a business that will LAST

So that together we can change the world.
You'll hear this from me again: this NEXT "Pivot" is going to be SO critical to you and your business that I am going to be talking about it for a few weeks.
So let's push the throttles into the left-hand corner and get airborne. 
Your Flight Brief is Next…
What I am Focusing On Right Now
I'm still obsessed.
Get used to it.
That's because the world just shifted. One door closed and another opened.
The business owners who try to walk into a closed-door will go bankrupt.
The entrepreneurs who walk through the open door will make millions.
The first thing you need to know is that the Crisis that just hit the world was 100% predictable. In fact, you could have set your watch by it. 
That's because every 80 years, the world completely reinvents itself. 
Every 80 years, the world closes the door on old business models.
And every 80 years, the world opens the door for new ones.
In other words, every 80 years the world rapidly accelerates it's evolution leaving dumb, slow, old businesses behind making way for smart, fast, and agile businesses.
Let's take a look back and see…
In 1780, the world turned upside down. The American Revolution was well underway and the French revolution was brewing. If you had a business selling British tea in 1776 in Boston, your business was about to disappear. But if you were selling coffee, well the world was about to make your life a lot of fun.
Fast forward 80 years…
In 1860, the American Civil War was underway, the Brits were fighting in colonial New Zealand, and Darwin had just finished The Origin of the Species. The world was back into the business of turning itself upside down. If you had a plantation in Alabama in 1860, your business was about to disappear. But if you had a young steel plant in New York, the world was about to make you very rich.
Fast forward 80 years…
In 1940, the entire World went to War. Within 5 years, a "new normal" landed with redefined map lines and solidified Cold-war trading partners. If you owned a print newspaper company in 1940s Poland, your business was about to disappear. But if you built family housing or shopping malls in the United States, the world was about to give you millions.
Fast forward 80 years…and BAM…it's 2020.
I'm just going to go out on a limb here and say that this "pandemic" should not have come as a surprise. The world is simply doing what it does every 80 years. It exhales while rapidly accelerating change, closing old doors, and opening new ones. 
Revolution, war, pandemic.
The reason is different. The result is the same.
So just face it: your business (and your life) will never be the same. The faster you come to grips with fact, the faster you can get on to the good stuff, because believe you me, there is a lot of good coming for you as long as you move fast.
In fact, whether that "new normal" is good or bad for you depends on what you do in the next 3-6 months. Billionaires will be made from this global crisis while other businesses will quickly bankrupt and disappear.
The result is 100% up to YOU. That's because you choose what side of the cash register you stand on.
There are 7 key strategies you want to implement now. I am going to be talking more about these in the coming weeks, so hang tight. If you want a deeper dive on all 7, check this out, it's worth your time.
7 "Next Pivot" Strategies Are…
Reinvent to Purpose first, then Reinvent to Profit. (In that order)

Dominate the New "Expert Economy"

Rebuild for Speed and Agility

Engage the 20% Customer Filter

Going Wide is OUT. Going DEEP is in.

Work Less. Make More. Especially Now.

Get Paid For Who You Are. Not What You Do.
When you do ALL 7, you will create an unbeatable business that's going to pay you well for years.
You in?
Ok, that's all for now. There is a LOT in this email so be sure to go back, re-read, and listen to the podcast.
Out.
Ed
P.S. I am actually, really doing a LIVE event in June on this whole idea of "The Next Pivot.". I'll also be streaming it live. If you're not already registered, let me know. I'll be sending out some info very soon.
P.P.S. Speaking of the podcast! When you hit the "subscribe" button, it tells iTunes the show is something they should pay attention to. You can do that right here.
Thanks in advance!
About The Author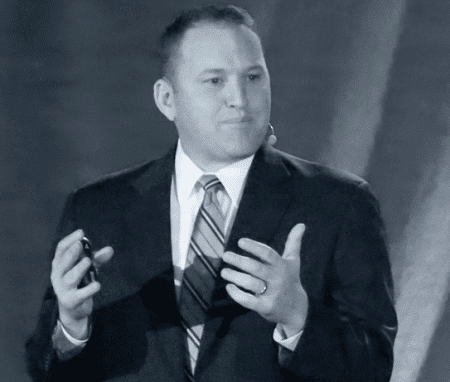 Ed Rush is a world-renown speaker, a five-time #1 bestselling author, and a highly successful business consultant who was featured on CBS, Fox, ABC, and NBC. He has spent a significant amount of time in the cockpit of an F-18 fighter jet, so he knows the value of strategy and the power of focus. He has effectively taken the principles that he learned flying faster than the speed of sound, and translated them into good business. His clients range from small startups to multinational organizations, and include CEOs, founders, political leaders, sports teams, national universities, Hollywood stars, and even a contestant on Donald Trump's The Apprentice. To buy any of Ed's books, visit his bookstore right now or hire Ed to speak at your next event.