Broadcasting YOU! (Your Weekly Flight Brief)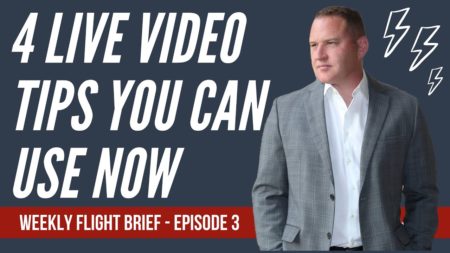 You can now fully digest the weekly flight briefing in the format of your choice. Video, Podcast or here on the Blog.
Sometimes good things come in BIG packages.This episode is a little bit LONG which means it's also JAMMED with tips on how you can
Create compelling content* faster
Broadcast your message to the world
Get more (and better) customers by finding them where THEY are.
Here we go…
What I Am Reading
The Book Thief  by Markus Zusak.
Secret Note #1: I LOVE fiction. I purposefully intake fiction at just the right time and for just the right reason and when done right, it can help your business a lot. There is something in a great work of literary art that inspires the soul and I find my own creativity blossoms when I consume fiction.
The Book Thief is literally one of the best novels I have ever read. Markus Zusak has a legit way with words.
Secret Note #2: On the mornings when I write, I usually start by reading great writing for at least 20 minutes to an hour. I call it "Priming the Pump." In other words, it's a way to get your brain into the groove and your prose on the paper.
Secret Note #3: I am about to start work on my 6th book and I'll be using The Book Thief to "Prime the Pump." Watch out world.
Secret Note #4: I was going to call these "Notes," but "Secret Note" sounded more cloak and dagger and thereby way cooler.
What I Am Focusing On Right Now
LIVE Video.
I know you know that. I mean, I have a show that has aired every single weekday for the last 2 months and you have to be living under a rock to not have attended at least one show. Did I mention that I have been airing a show…
Every
Weekday
For
The
Last
2
Months?
(Makes me exhausted just saying it.)
Anyhoo…I have learned a figurative cabbage truck full of great ideas going LIVE each day including these Live Streaming Tips below…

– Tip #1: Go Where Your Audience Is. 
My audience flocked to YouTube mostly because of the fast / interactive chat feature and the results there have been very good.
Facebook results have been mostly meh.
A big surprise was Instagram. The edited post-show clips are getting 300-800 views. This is my IG page ==> https://www.instagram.com/edrushpilot. I have been very active there, so follow and see what's working. (Hint: four letters you should know about = IGTV.)
Twitter (as usual) is a pointless unrolling sheet of used toilet paper. In other words, it's nearly meaningless in any business application.**
– Tip #2: Start every show with a benefit.
Most LIVE shows start like this, "hey, GUYS, hey, how is everyone doing…wow…here you are…wow…here I am…Uh…is this microphone working…" (and on and on it goes for about 5 long, boring minutes).
Video stats all prove that the biggest drops in viewers happen in the first MINUTE. So in your live videos, make your first minute count.
Best practice: start your first sentence with "YOU" or the word "Imagine". See the start of this show to see an example of both. Listen carefully to the first 2 sentences.
– Tip #3: Interact with your guests.
One of the beauties of live streaming content is that people can interact with you and also with each other.
Best practice: take 1 minute every 5-10 minutes to "catch up in chat" and say hello.
– Tip #4: Do it now.
People tell me they want to live stream, but that they "aren't ready for it yet."
That's bull butter.
You…will…never…be…ready…until…you…go…LIVE.
Seriously, try it.
– Bonus #1: I have 9 more tips here.
– Bonus #2: I am taking new clients this month. So, if you have a 6 to 7-figure business and you want to dial in your live streaming game (or any other game), let me know.
Latest App
StreamYard.
If you want an easy want to…
Stream to YouTube, Facebook, Twitter, and LinkedIn simultaneously
And
Look great while doing it
…then StreamYard is your solution.
I have been using this app to create all of my shows. Check out the guest interface below…along with the "serious face."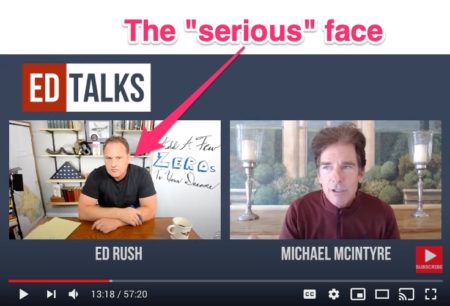 Challenge of the Week
Live Stream on the platform of your choice for at least 10 minutes this week. Your checklist…
Choose your platform. (You can stream directly to any of them)
Turn your camera around or sit in front of your computer.
Press "go live."
Teach something great.
Press stop.
There, you did it.
Now, just so you know, our first live stream will be awful.
Don't be offended. Mine was. Everyone's was.
But guess what? When you go live for the first time you get all of that out of the way so the next show can rock.
Just do it, ok.
Out.
Ed
P.S. You read this far so here is a bonus. I created a short video on how to set up your home studio inexpensively. It's right here in the middle of this show. This link will take you directly there.
* Bonus points for alliteration.
** Twitter note: Twitter is the WORST platform in the world for business by a l-o-o-o-n-g shot. That is, unless you want to spend your life in endless political banter with anonymous social contacts only to be upset about something someone in Washington DC just did or said. If that's you, Twitter is your place, so have at it.
About The Author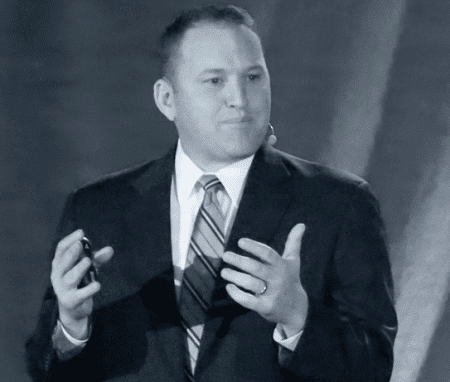 Ed Rush is a world-renown speaker, a five-time #1 bestselling author, and a highly successful business consultant who was featured on CBS, Fox, ABC, and NBC. He has spent a significant amount of time in the cockpit of an F-18 fighter jet, so he knows the value of strategy and the power of focus. He has effectively taken the principles that he learned flying faster than the speed of sound, and translated them into good business. His clients range from small startups to multinational organizations, and include CEOs, founders, political leaders, sports teams, national universities, Hollywood stars, and even a contestant on Donald Trump's The Apprentice. To buy any of Ed's books, visit his bookstore right now or hire Ed to speak at your next event.